TIANJIN XINYUE INDUSTRIAL AND TRADE CO.,LTD.
Since its establishment, focus on international export business development
At present, we have two branches in Tianjin and Hunan
In the past development process
Xinyue provided hundreds of thousands of tons of steel products for ground pipeline laying and other infrastructure projects around the world
Project location: South Africa
Product: HDG & Pre-galvanized steel pipe
Standard and material: BS1387 S235
Specification: 33.7~114.3MM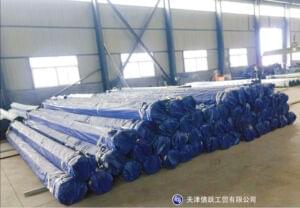 Usage: Water delivery for agricultural irrigation
Timeline: Received inquiry on 5th October, 2021
Signed contract on 15th October, 2021
Delivery time: 20th November, 2021
Arrival time: 30th December, 2021
Since 2015, Xinyue has cooperated with this South African customer for more than 6 years. The customer is a local galvanized pipe stockist and maintains at least 1 order per quarter. In recent years, Customers also expand business gradually from the basic hot dip galvanized pipe to pre galvanized round pipe and square pipe products.
In this order, after orderly production, inspection department from Xinyue carried out strict inspections about size of pipes and thickness of galvanized layer. All the data passed the requirement of customers, it can be shipped smoothly within the agreed period of the contract. In order to avoid corrosion during the bulk shipping, affect the surface of galvanized pipe, we made full preparation work before shipment, to pursue the anointing oil on the surface of a galvanized pipe processing, and then will all the goods packaging tarpaulins, out of direct contact with the water and the galvanized layer, avoid tube was caused by the alkali galvanized layer falls off, stand in customers' aspect to deal with problems.