In August this year, Xinyue Steel Group Hunan branch official website, http://www.xysteelpipe.com, received an inquiry from Philippine customers, customers needed scaffold steel pipes, fasteners and other products to be used as replacement materials for renovation, maintenance of the project. As soon as we received the inquiry, we combined the actual needs of customers and previous product experience to integrate the best scheme for customers. It took only three days for both parties to negotiate and confirm the contract price, payment method, delivery date, zinc layer thickness, product acceptance standard and other requirements. The customer also provided the deposit receipt in good faith on the day of signing the contract.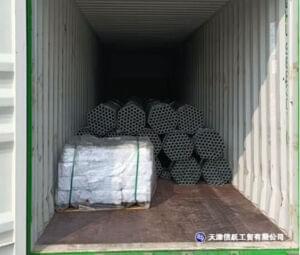 Since the construction of the project already started before sending the inquiry, in order to cooperate with the project progress, the customer required all the product must be shipped within 25 days. What customers' need was our mission. Xinyue was fully confident we could solve this problem raised by customers. Over the years, Xinyue not only had very professional experience and rich resources in the field of scaffold, but also stored a certain number of scaffold products all year round, so the 25 days delivery period was not a difficult challenge for our company. This time, Xinyue warehouse once again shows the strength. After verification by sales specialist, The product required by this project order was conventional inventory range of Xinyue, which could meet the needs of customers in terms of quantity and zinc layer thickness.
At the same time, in combination with the current global shipping situation, Xinyue logistics department actively allocated resources and looks for resources in advance, to ensure all the good were shipped at first time. Up to now, all the good had arrived at the port of destination and will be sent to the project site for use.
At present, Xinyue's export products mainly include: various types of welded pipes and accessories, seamless steel pipes and accessories, stainless steel pipes and accessories, scaffold systems and fasteners, steel coils, steel plates, angle steel, H-section steel, reinforcement, etc., basically covering all steel related products. Through years of industry accumulation, Xinyue has resource information of all kinds of steel products and a storage center with a certain storage capacity. We are definitely your trusted partner. In addition, Xinyue Steel Group Tianjin Branch Office website: http://www.xinyuesteel.com(TIanjin); Xinyue Steel Group Hunan Branch Office website: http://www.xysteelpipe.com (Hunan). Welcome your visit. Xinyue will be waiting for you 24 hours and we are looking forward to a long-term cooperation with you!