In recent years, with the continuous growth of exports to Vietnam, Vietnam has became one of the important exporters of Xinyue in the Southeast Asian market. This order is about an regular customer from Vietnam. On August 12, 2021, Xinyue received the customer's purchase demand. The sales specialist prepared two sets of schemes for the customer to choose the next day. Based on many pleasant and successful cooperation experiences in the early stage, after analyzing this scheme in detail, the customer quickly determined the final scheme and signed the order contract.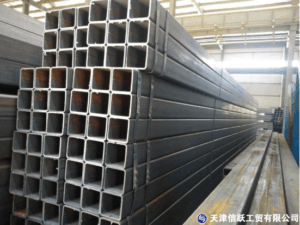 The products required in this batch of orders were rectangular tubes, and the difficulty of this order was the short delivery time. Fortunately, Xinyue had strong storage support, and the inventory quantity was enough to meet all the needs of customers in this order. Due to the influence of COVID-19, the payment procedure was slow. On the premise of considering this factor, Xinyue completed all available procedures at first time to ensure customers could receive the steel pipes produced by Xinyue within the agreed time. After signing the contract, Xinyue booked the fastest and the most appropriate shipping date for the customer, then paid close attention to the quality inspection link. We did not ignore the quality inspection of this batch of orders because of the tight delivery time. On the contrary, the quality inspection department sent additional staff to the factory for inspection, fully completed the quality inspection details of each rectangular tube. In the later stage, immediately arrange transportation, packing and other follow-up work after receiving the advance payment. Finally, all the good was successfully shipped on September 2, and arrived at Ho Chi Minh port on September 13 as customers scheduled.
Xinyue storage has a large amount of inventory for a long time, including round pipe, rectangular pipe and steel sheet pile. We can effectively ensure customers' demand, solve customers' urgent needs to a certain extent. In addition, Xinyue storage lays a strong support and foundation for future cooperation. In the future, Xinyue has a long way to go and will continue to expand our own advantages, do a good job in steel pipe export and contributes to "made in China"!