As one of the largest storage bases in Tianjin, Xinyue storage coupled with unique geographical location near the port, has greatly saved time and cost in shipping and delivery time, and has been favored by many overseas customers, making Xinyue's performance increasing in recent years.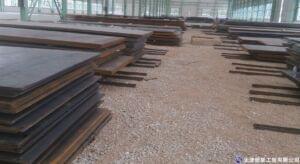 The product purchaser is a friend from Canada. He learned the strength and advantages of Xinyue from his peers in the industry. After obtaining the contact information, he called Xinyue at first time and expressed his preliminary cooperation intention. After understanding the needs in detail, the business specialist finally confirmed the customer's required specification is 84 " x 240 " AR400, and the thickness is between 3 / 8 " and 2 ". Then, the business specialist quickly checked the inventory, confirmed that the specification and quantity of the existing inventory products were sufficient to meet the customer's needs, and submitted the shipping plan to the customer on the same day. The customer praised Xinyue for rapid response. At the same time, he was also very satisfied with the scheme we provided. After all the cooperation details were communicated, he decisively signed a contract with Xinyue. This batch of products had been successfully shipped and the customer will receive the goods in the middle of October.
Xinyue storage provides the absolute guarantee for the urgent orders of many customers around the world. This order can be quickly signed and shipped, because of our storage. With the deepening of business cooperation between the two sides, we also deepened our mutual understanding. We gradually found that many ideas of the Canadian customer are very similar to our development philosophy. The customer also expressed the intention for long-term cooperation and is willing to work together for win-win and common development.